künstler
Mazzoni's Trento Palace: To the Return of Color
Materials and Notes for the Restoration project by Fabio Campolongo (P.A.T.) Surveyor for Architectonical Heritage Autonomous Provincia of Trento
TRIENT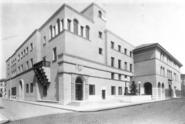 Der Palazzo delle Poste in Trient, den Angiolo Mazzoni 1929 entwarf, gestaltete das österreichisch-ungarische Postgebäude aus dem 19. Jahrhundert und die Überreste des Renaissance-Gebäudes zu einer modernen Konzeption um, mit Werken von Depero, Prampolini, Tato (Gugliemo Sansoni), Bonazza, Pancheri, Zuech und Ticò. Die Photos von Perdomi und Unterveger aus den dreißiger Jahren dokumentieren das außergewöhnliche, maßgeschneiderte Werk Mazzonis: Eine Architektur mit kunstvollen Überlagerungen; ein Ort der Gleichzeitigkeiten, an dem Historismus, Archaismus, Modernismus in Harmonie und Gegensätzlichkeit zusammenleben, in einer Sammlung aus Fragmenten und Zitaten.
Die Stadt und ihre Verwaltung sollten sich nun fragen, was man mit diesem Gebäude, das immer schon ein "öffentliches Gebäude" war, machen könnte. Im Laufe der vor kurzem ausgeführten Umbauten des Postamts und anlässlich der Einrichtung der Manifesta 7 wurde die erstaunliche chromatische Sequenz der Räume dokumentiert. Zu den "futuristischen" Rot-, Ocker-, Blau-, Grün- und Brauntönen und dem Aluminiumgrau gesellen sich die vielfältigen künstlerischen Arbeiten aus den dreißiger Jahren. Im vom Ersten Weltkrieg "erlösten" Trient hatte das Savoyische Himmelblau mehr Kraft als jede italienische Trikolore. Eine Auswahl dieser Archivmaterialien wird während der Ausstellung "Die Seele" im Palazzo delle Poste präsentiert.
Die Präsentation wurde in Zusammenarbeit mit dem Architekten Andreas Müller entwickelt.
Fabio Campolongo ist Architekt und Architekturhistoriker und lebt in Trient. Während der Umbauarbeiten im Palazzo delle Poste hat er eine Vielzahl an Informationen und Bildern gesammelt, die die Geschichte des Gebäudes rekonstruieren.
Location
TRIENT
ANSELM FRANKE/HILA PELEG: "THE SOUL (or, Much Trouble in the Transportation of Souls)"
PALAZZO DELLE POSTE, VIA S.S. TRINITA' 27, I-38100 TRIENT, ITALIEN
mehr