artists
Libia Castro & Ólafur Ólafsson
Libia Castro, 1969, Madrid, SP; Ólafur Ólafsson, 1973, Reykjavik, IS They live in Rotterdam, NL
Uterus Flags, 2008 Outdoor installation The Caregivers, 2008 Video installation
ROVERETO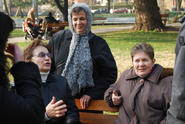 Often described as "citizens of the world," Libia Castro & Ólafur Ólafsson utilize different media in order to raise questions addressing social issues and urban politics. The aim of their work is to portray a group of people living in a specific cultural, social and economic environment and mapping the spatial and architectural context where they live. With their "site-related practices," they also actively engage with the dynamics of locality, reactivating and revealing its current concerns.
Intrigued by the dense history of female-labor in the Rovereto area, the artists produced two works related to this theme. Uterus Flags is a new version of a work exhibited previously in various European cities. The flags, inspired by symbols of heraldry, bear the silhouette of female sexual organs. Exhibited in the streets of Rovereto, in urban public space, these flags become a part of the city's architecture and life. The video The Caregivers investigates a fairly recent phenomenon in the sector of female-labor, that of East European domestic caregivers who take care of elderly Italians in their homes. After a few of informal meetings in a communal park, Libia Castro & Ólafur Ólafsson later commissioned the composer Karólína Eiríksdóttir to write a song for the video, based on an article about the issue, written by the American-Italian journalist, Davide Berretta.
Location
ROVERETO
ADAM BUDAK: "PRINCIPLE HOPE"
EX PETERLINI, VIA SAVIOLI 20 – MANIFATTURA TABACCHI, P.ZZA MANIFATTURA 1 -STAZIONE FERROVIARIA, PIAZZALE ORSI, I-38068 ROVERETO, ITALY
more