artists
The Museum of projective personality Testing
by Sina Najafi and Christopher Turner
TRENTO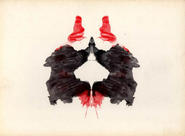 Although standardized tests date back to the Chinese imperial examinations of 587 AD, modern personality tests only emerged during the First World War, when the Woodworth Personal Data Sheet was devised to help the U.S. Army screen for those recruits who might be most susceptible to shellshock. The first "projective" test was devised in 1922 by Hermann Rorschach, who invited patients to interpret ten inkblots, in the process revealing personality traits through their attempt to impose meaning on the random stains.
The Museum Projective Personality Testing is pleased to present a touring exhibit of tests drawn from its archive. The purpose of all projective tests – the Thematic Apperception Test, the Duess Test and the Draw-a-Person Test being three of the most widely administered – is to give the psychologist access to patients' hidden motives through their free-associations from visual and verbal cues. As part of its mission, the museum will not only present the origins and uses of these tests but also subject visitors to them.
Sina Najafi is the founding editor of Cabinet magazine. Christopher Turner is a writer and editor for Cabinet. Both are based in New York. Additional research for this museum was performed by Madeline Hollander.
Location
TRENTO
ANSELM FRANKE/HILA PELEG: "THE SOUL (or, Much Trouble in the Transportation of Souls)"
PALAZZO DELLE POSTE, VIA S.S. TRINITA' 27, I-38100 TRENTO, ITALY
more