artists
Stefano Bernardi
1970, Bozen / Bolzano, IT lives in Bozen / Bolzano, IT
Close your Eyes!, 2008 Sound installation from recordings of the restoration work at the Alumix Factory
BOLZANO/BOZEN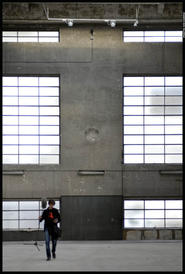 "I approached the Alumix factory as if it were a gigantic sound box, where the restoration workers are musicians who "play" it unawares. My work is to select and assemble their improvisations by respecting the chronological order of the works. A very long reverberation that dilates any sound and gives it a unique and unrepeatable quality characterizes the acoustic quality of the factory. The pneumatic drill is transformed into very low frequency waves. The impossible silence of an artisan and industrial zone fills the air with distant sounds, almost unrecognizable. Then there are love songs, broken glass, shining flex, bulldozers, trowels, burners and drills.
This sound, recorded during the entire period of the restoration from October 15, 2007 to April 17, 2008, narrates the metamorphosis of the building from a state of neglect to its new, revived function. The sound boxes return the sounds to their original sites in order to obtain a second reverberation, to give a second identity to the reproduced sounds." Stefano Bernardi
Stefano Bernardi graduated in 1995 from ZeLIG, the school of documentary, television and new media in Bolzano. He now works as a freelance audio-visual professional. He plays in the rock group ziZ , and in a duo called Ubik . With his SUB solo project he produces soundtracks, electronic music and makes audio-video installations.
Location
BOLZANO/BOZEN
RAQS MEDIA COLLECTIVE: "THE REST OF NOW"
EX ALUMIX, VIA VOLTA 11, I-39100 BOLZANO/BOZEN, ITALY
more