artists
Emre Hüner
1977, Istanbul, TR Lives in Istanbul, TR
Panoptikon, 2005 Animated film, 11' 18''
BOLZANO/BOZEN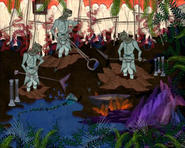 Panoptikon was created by bringing together an archive of objects, plants, and architectural components, which were initially drawn on paper, independently from one another. The artist then animated the images using two-dimensional animation techniques. Every element in the scenes has been meticulously rendered. The viewer is aware of each single, delicate detail due to the artist's transparent method of layering.
The work catalogues the world around us, using references to independent layers of history that are then combined to form an imaginary world. Hüner visualizes a series of progressive actions, industrial and scientific in nature, which incorporate both mechanical and human forms. Panoptikon reflects on contemporary human beings, architecture and nature and on their inseparability in modern society. The sequences of the film convey the idea of a society at risk, with humans as potential victims in the new world. The work is simultaneously calm and full of tension, while emanating a feeling of emptiness.
The work of Emre Hüner has a sense of melancholy, hinting at a dystopian future for society.
Location
BOLZANO/BOZEN
RAQS MEDIA COLLECTIVE: "THE REST OF NOW"
EX ALUMIX, VIA VOLTA 11, I-39100 BOLZANO/BOZEN, ITALY
more