artists
KateRˇina Šedá
1977, Brno, CZ Lives in Brno-Líšenˇ, CZ, and Prague, CZ
Her Mistress's Everything, 2008 video, photographs It Doesn't Matter, 2005 – 2007 drawings, photographs, video, interview Once Daily Before Meals, 2006 – 2007 questionnaires
BOLZANO/BOZEN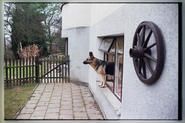 "After her retirement, my grandmother became lethargic and stopped answering our questions. I decided to find ways to bring her back to active life.
It Doesn't Matter was named after my grandmother's constant response. Once when I was talking to her, I learned she could recall the prices of all 650 items sold in the hardware shop where she'd worked. For two years, we worked together on a set of drawings of these tools.
In 2006, I felt that drawings alone were becoming too automatic. Once Daily Before Meals is a series of questionnaires that she filled out every day before her main meal. The last questionnaires were completed at the hospital in Brno where she passed away in 2007.
Ajda the wolfhound pined for her mistress, and in order to console her we decided to keep my grandmother's apartment alive, turning the radio on at mealtimes, and the television in the morning. When I tell people this they say she's probably the only dog in the world with her own one-room flat. We don't care, because Ajda plays the Mistress Game with us." Katerˇina Šedá
Katerˇina Šedá uses provocative actions and the unlikely use of everyday materials to intervene creatively in the social life of the area where she lives.
Location
BOLZANO/BOZEN
RAQS MEDIA COLLECTIVE: "THE REST OF NOW"
EX ALUMIX, VIA VOLTA 11, I-39100 BOLZANO/BOZEN, ITALY
more