artists
Barbara Visser
1966, Haarlem, NL Lives in Amsterdam, NL
Former Futures, 2008 Mixed media installation
TRENTO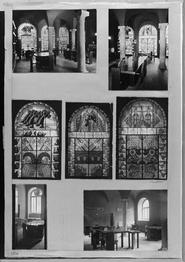 Barbara Visser's work deals with the uncertain relationship between recording and dramatizing questions of history and its possible representations. Images and texts included in her work are merely vessels for "future memories." Their shape and appearance alter the content of what was once worth remembering. The ambiguity of particular codes and systems within the images, sounds and text employed in her work challenges the viewer to reconsider ingrained ways of perceiving the world.
Former Futures stages the exchange of letters between Angiolo Mazzoni, the architect of the Palazzo delle Poste, and Fortunato Depero, an artist who was determined to win the commission for some large scale works for this building. The well-documented relationship between Futurism and Fascism emerges here on a level that has escaped history books. Depero's designs for the huge windows feature symmetrical cityscapes celebrating the technical and artistic abilities of man and machine. These images of upward movement from the first half of the twenty century stand diametrically opposed to the current model of progress, which glorifies a decrease in the speed of our private lives: the slow movements that have emerged globally originated in Rome as a protest against the opening of a well-known hamburger restaurant chain. Former Futures looks at progress, and presents acceleration and deceleration as two sides of the same coin.
Location
TRENTO
ANSELM FRANKE/HILA PELEG: "THE SOUL (or, Much Trouble in the Transportation of Souls)"
PALAZZO DELLE POSTE, VIA S.S. TRINITA' 27, I-38100 TRENTO, ITALY
more