artists
Roee Rosen
1963, Rehovot, IL Lives in Tel Aviv, IL
The Confessions of Roee Rosen, 2008 HD Video, 56'30" Confessions Coming Soon, 2007 HD Video, 8' 40'' Frosted Self-Portraits, 2004–2006 Gouache on paper, 50 × 32.5 cm Professionals, 1994–1996 Oil on paper, 100 × 66 cm Martyr Paintings, 1991–1994 Oil on paper, acrylic, pastel, and spray paint on paper, 75 × 57.5 cm
TRENTO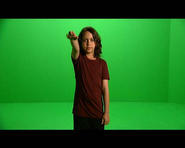 In Israel, Roee Rosen is known not only as a virtuoso painter but also as a novelist, intellectual and teacher. His work reflects this hybrid quality, reinventing painting as part of a conceptual, often narrative, framework and producing books that elude classification.
The Confessions of Roee Rosen begins with the artist's announcement that he is about to die. He disavows a career replete with lies, scandals, and fake identities. However, his confession are delivered by three surrogates – all foreign female workers residing in Israel – who deliver the monologues in Hebrew, a language they do not speak. Their monologues are based on Rosen's life but are simultaneously plausible as statements a foreign worker might make. Tackling such charged themes as the exploitative representation of the Holocaust or scatological fantasies, the confessions constitute a peculiar speech act in which the speakers ignore what they say.
Three series of Rosen's paintings are also on display at Manifesta 7. Martyr Paintings pursue an emphatically broad spectrum of stylistic quotations to suggest a twilight zone between faith and myth, hagiography and pornography. Professionals use the same perverted childhood photo of the artist to depict a potentially infinite range of professional roles. Frosted Self-Portraits render the artist as either a piece of chocolate or a piece of shit (following Dali's claim that beauty should be edible).
Location
TRENTO
ANSELM FRANKE/HILA PELEG: "THE SOUL (or, Much Trouble in the Transportation of Souls)"
PALAZZO DELLE POSTE, VIA S.S. TRINITA' 27, I-38100 TRENTO, ITALY
more