künstler
Javier Tellez
1969, Valencia, VELives in New York, US
Perfetta letizia, 2008 HD Video, 20'
TRIENT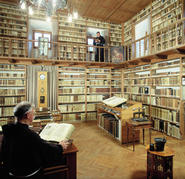 "Auf einen Längsbalken, der die Decke von Brechts Arbeitszimmer stützt, sind die Worte gemalt: 'Die Wahrheit ist konkret.' Auf einem Fensterbord steht ein kleiner Holzesel, der mit dem Kopf nicken kann. Brecht hat ihm ein Schildchen umgehängt und darauf geschrieben: ,Auch ich muss es verstehen'."
Walter Benjamin, 24. Juli 1934
Mit seiner Arbeit zwischen Fiktion und Dokumentation reißt Javier Tellez die gewohnten sozialkulturellen Grenzen ein. Was er als "filmischen Ausweis" bezeichnet, soll die weniger sichtbaren Mitglieder unserer Gesellschaft hervortreten lassen. Auf der Manifesta 7 stellt er seine neue Videoarbeit vor, die er in der franziskanischen Bibliothek von Sankt Bernhard in Trient aufgenommen hat. Der Künstler führte einige Tiere – ein Lamm, einen Wolf, einen Esel und ein paar Raubvögel – in das Kloster, die den Lesungen der Brüder "beiwohnten". Die für dieses spezielle Treffen ausgewählten Texte entstammen dem Werk Actus beati Francisci et sociorum eius, das besser als die Fioretti des Heiligen Franziskus bekannt ist und wahrscheinlich von Ugolino da Montegiorgio zwischen 1370 und 1390 verfasst wurde. Der Titel verweist auf die Auswahl "kleiner Blumen" und bezeichnet damit 53 Texte, die für das Leben des Heiligen und seiner ersten Begleiter als bedeutsam erachtet werden. Viele von ihnen erzählen von seiner außergewöhnlichen Fähigkeit, mit den Tieren zu sprechen: "Auf diese Worte des heiligen Franziskus begannen die Vögel samt und sonders ihre Schnäbel zu öffnen, die Flügel zu spannen, die Hälse zu recken – und bekundeten durch Sang und Gebärde, dass ihnen die Worte des Heiligen großes Ergötzen bereiteten. Wie er das schaute, empfand er eine wundersame Freude im Geiste. Und da (…) pries er in ihnen den wunderbaren Schöpfer." Das Video stellt die Momente der Kommunion zwischen dem Heiligen, der Natur und "all ihren Geschöpfen" nach.
Location
TRIENT
ANSELM FRANKE/HILA PELEG: "THE SOUL (or, Much Trouble in the Transportation of Souls)"
PALAZZO DELLE POSTE, VIA S.S. TRINITA' 27, I-38100 TRIENT, ITALIEN
mehr