künstler
Luigi Ontani
1943, Vergato, IT Lives in Rome, IT
Mani in Festa, 2008 Mixed media installation
TRIENT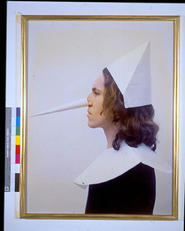 In Ontanis Kunst steht der eigene Körper im Mittelpunkt, ein Ausdruckselement, welches in der Lage ist, eine unendliche Anzahl an Dualitäten hervorzubringen: Das Heilige und Unheilige, Orient und Okzident, männlich und weiblich, das Göttliche und das Menschliche, die Kunstgeschichte und die volkstümlichen Traditionen. Ontani verwendet für seine Kreationen unterschiedlichste Materialien: Vom Karton bis zum Glas, von Stoffen bis hin zur Keramik, von der Fotografie zum Video, von der Zeichnung zur Performance.
Dennoch dienen die verschiedenen Techniken dem Künstler nicht als Selbstzweck, sondern bieten ihm Gelegenheit, eine transgeschichtliche Reise anzutreten und dabei neue Möglichkeiten und Variationen über Themen und Gegenstände zu ersinnen, denen er sich besonders verbunden fühlt. Dabei muss hinzugefügt werden, dass Ontani selbst ein tableau vivant, ein lebendiges Kunstwerk, als überfeinertes Resultat seiner ästhetischen und philosophischen Untersuchungen darstellt.
Anlässlich der Manifesta 7 präsentiert Ontani eine Reihe seiner Werke – Skulpturen, Masken und Fotografien – darunter einige, die speziell für den Eingangsbereich des historischen Teils des Palazzo delle Poste in Trient konzipiert worden sind. Es sind dies die Ermestetica (eine Skulptur aus vielfarbiger Keramik) die zehn fotografischen Werke in Linsenform (die der Künstler ANAMORpose nennt), die an den Fenstern aufgehängt wurden, welche sich neben den originalen des futuristischen Künstlers Enrico Prampolini befinden.
Location
TRIENT
ANSELM FRANKE/HILA PELEG: "THE SOUL (or, Much Trouble in the Transportation of Souls)"
PALAZZO DELLE POSTE, VIA S.S. TRINITA' 27, I-38100 TRIENT, ITALIEN
mehr