künstler
Mobile Academy, Hannah Hurtzig, Chris Kondek, in collaboration with Karin Harrasser
Hannah Hurtzig, Wismar, lives in Berlin, DE Chris Kondek, 1962, Boston, ma, USA, lives in Berlin, DE Karin Harrasser, 1974, Kufstein, AT, lives in Berlin, DE, and C Vienna, AT
Night Lesson No. 1, "On Hesitation" by joseph Vogl, 2008 Series of video lectures
TRIENT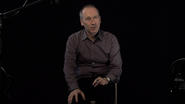 Night Lesson No. 1 "On Hesitation" by Joseph Vogl ist die erste von hundert Nachtlektionen, die im öffentlichen Raum in verschiedenen Städten projiziert werden sollen und sich an Nachtgestalten richten. Nummer Eins ist den Zuständen des Zauderns, der Unruhe und des Wankelmuts, der Verschwommenheit, dem Obskuren und Ominösen gewidmet.
Der deutsche Philosoph und Literaturwissenschaftler Joseph Vogl bezeichnet das Zaudern als einen Zustand, der mehr als nur ein Fehlen von Bewegung impliziert: Durch das Zaudern wird die Dimension von Zeit und Geschichte sichtbar, somit stimuliert es den Sinn für das Mögliche. Vogl wird für die nächtlichen Vorübergehenden die Rollen des Aufschubs und der Vertagung in einer durch Gesetze der Tat dominierten Kultur, die Geburt des historischen Geschehens aus Wallensteins Zaudern heraus, Helden des Widerwillens, die Agonie und den Luxus der Unentschlossenheit erörtern.
Die Nachtlektionen sind lose mit den Ideen und Idealen der Volksbildung oder kleineren Universitäten verbunden. Die Vortragsreihe denkt Ausbildung als Ermutigung zum wilden, präzisen Denkens. Ziel ist es, den Studenten (hier denen, die auf einem Nachtspaziergang unterwegs sind) Zugang zu instabilen und exzessiven Formen des Wissens zu gewähren und Probleme für bereits existierende Lösungen zu finden.
Night Lesson No. 1 will be screened on the post office facade (via Roccabruna) every Thursday and Saturday from 10.00 pm to midnight.
Location
TRIENT
ANSELM FRANKE/HILA PELEG: "THE SOUL (or, Much Trouble in the Transportation of Souls)"
PALAZZO DELLE POSTE, VIA S.S. TRINITA' 27, I-38100 TRIENT, ITALIEN
mehr