künstler
Yane Calovski
1973, Skopje, MK Lives in Skopje, MK
Master Plan, 2008 Drawings, video, publication and the original copy of Kenzo Tange Associates' _Master Plan for the Reconstruction of Skopje's City Center_
BOZEN/BOLZANO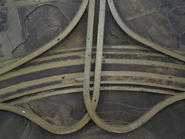 Als eine "neue" Stadt Mitte der Sechziger Jahre war Skopje einer der seltenen Fälle versuchter Großartigkeit und zielloser Beratungen. Die Kapitalisten hatten es sich ausgedacht, die Sozialisten angedacht und die Kommunisten gebaut. Heute ist die Stadt Mittelpunkt eines ganz anderen politischen und städtebaulichen Diskurses, der weniger den fortschrittlichen Idealen des urbanen Leben als vielmehr symbolischer "Preisarchitektur" verpflichtet ist.
Master Plan ist eine Installation von Zeichnungen und einem Video, die sich dem jüngst wieder ausgegrabenen Siegerprojekt von Kenzo Tange Associates für die Neugestaltung der Stadt Skopje nach dem Erdbeben vom Juli 1963 annimmt. Das Video und eine Reihe von Zeichnungen zeigen weitere Ideen, die in Informationsspuren und Forschungsrückständen gefunden werden konnten. Master Plan vermittelt einen Eindruck davon, wie sich der rationale Raum der Diagramme und Grafiken und der mystische Raum der Illusionen überlappen.
Yane Calovski macht Zeichnungen und schreibt Geschichten, entwickelt Erzählstrategien für öffentliche Räume und glaubt an das tradierte Volkswissen. Er hat D_ , eine Zeitschrift für zeitgenössische Zeichnung gegründet sowie (in Zusammenarbeit mit der Künstlerin Hristina Ivanoska) den _press to exit project space .
Location
BOZEN/BOLZANO
RAQS MEDIA COLLECTIVE: "THE REST OF NOW"
EX ALUMIX, VOLTASTRASSE 11, I-39100 BOZEN/BOLZANO, ITALIEN
mehr