artists
Philippe Rahm
1967, Pully, CH Lives in Paris, FR, and Lausanne, CH
Météorologie d'intérieur / Interior Weather, 2007 In collaboration with Alain Robbe-Grillet Mixed media installation (15 m × 2 m × 7 m)
ROVERETO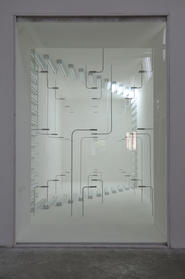 Météorologie d'intérieur / Interior Weather, 2007
PHOTO: A. POZZA
Philippe Rahm explores invisible and physiological aspects of space by questioning traditional ways of conceiving the typology of architecture and bringing such dichotomies as natural / artificial, day / night to the forefront of his research.
Interior Weather is conceived as two spaces, one white gallery as the locus of production for an abstract "interior weather" condition, and the other black space, as the locus of interpretation for the resultant data. In the first room, sensors plotted on a regular grid throughout the volume measure variations in light, humidity and temperature; space is shown as micro-geography in constant flux, revealing a variety of climatic moments within the spatial volume. These measurements, transmitted to the second gallery, are analyzed by a computer that, drawing on recognized physiological values, outlines a first interpretation. The same data is then freely reinterpreted in "fictional scenarios" written by French writer Alain Robbe-Grillet and visualized with a projection in the black room. In opposition to previous architectural theories, function and form emerge here as a spontaneous response to climate. The possible use of space is dictated only by the chance confluence of climatic parameters, suggesting new spatial practices, new forms of social behavior and new urban and architectural forms.
Location
ROVERETO
ADAM BUDAK: "PRINCIPLE HOPE"
EX PETERLINI, VIA SAVIOLI 20 – MANIFATTURA TABACCHI, P.ZZA MANIFATTURA 1 -STAZIONE FERROVIARIA, PIAZZALE ORSI, I-38068 ROVERETO, ITALY
more