artists
Stephen Willats
1943 in London, UK Lives in London, UK
Wall net one / wall net two, 2008 Wall drawing, posters, dimensions variable Assumptions and Presumptions, 2007 Three-channel video installation, 6' A Moment of Action, 1974Six-panel work with clipboard and response sheets
ROVERETO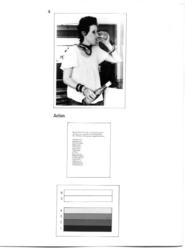 Willats bases his practice upon a thorough research of communities, social groups and individuals and supported by the scientific methods of investigation coming from social sciences, system theory and cybernetics. His practice includes interviews, questionnaires and installations focusing on living conditions and social networking, including interpersonal relations at work or in the home or street, within a range of real situations, districts, clubs and groupings.
At Manifesta 7 he presents a selection of work from early 1970s to a more recent video installation. A Moment of Action , 1974, documents a few moments in the life of a middle-aged woman, fragmented into movie-like stills, while a questionnaire for the viewer offers different interpretations for the actions in each frame. Wall Net One / Wall Net Two presents a selection of diagrams that have been employed by Willats since the late 1950s as a tool to illustrate dynamic flows of information and relationships within social networks. Here, the artist explores the diagram's potential to describe social relationships and to offer new philosophical, social and ideological visions. Assumptions and Presumptions was commissioned by Transport for London's Platform for Art and was screened at Rayners Lane and Sudbury Town underground stations. The film finds its rhythm – and even beauty – in the repetitive movements of participants acting out the role of commuters entering one station and exiting from the other, assuming different identities, influencing the way the casual observer perceives them.
Location
ROVERETO
ADAM BUDAK: "PRINCIPLE HOPE"
EX PETERLINI, VIA SAVIOLI 20 – MANIFATTURA TABACCHI, P.ZZA MANIFATTURA 1 -STAZIONE FERROVIARIA, PIAZZALE ORSI, I-38068 ROVERETO, ITALY
more