artists
Claire Fontaine
Founded in 2004 Lives and works in Paris, FR
We Are With You In The Night (Siamo con voi nella notte), 2008 Cold white neon, paint, cables, framework and transformers, 500 × 25 × 5 cm Visions of The World, Rovereto, (21 dicembre il sole tramonta 15:38, 1965 – 1968), 2008 Light-box, 90x 60 × 12cm Visions Of The World (Manifattura Tabacchi di Rovereto, 1854 – 2008), 2008 2 × 5000 offset stacked posters on paper, 2 × 100 × 71 cm each
ROVERETO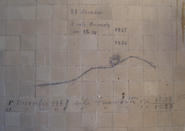 Claire Fontaine is a collective artist group, founded in 2004. After lifting her name from a popular brand of school notebooks, she declared herself a "readymade artist" and began to elaborate a version of neo-conceptual art that often looks like other people's work.
Claire Fontaine pursues an ongoing interrogation of the political impotence and the crisis of singularity that affects contemporary art today. '_Siamo con voi nella notte' (_ '_We are with you in the night')_ is a mural inscription scrawled on a wall in an Italian town in the 1970s. In this ambiguous sentence, "the night" represents the prison but also the uncertain zone of obscurity proper to every clandestine resistance. The night is the space of non-distinction where those marks that divide the singularities fade. Visions of the world refers to a series of works that alternatively take the forms of light-boxes and posters. Two old posters found in the former Manifattura Tabacchi depicting tobacco's parasites are presented as an element of ironic memory of the recent past. At a time when the factory is being dismantled in order to be moved elsewhere and when European laws forbid smoking in all public places, the poster appears as a metaphor for the destiny of smokers' habits in the 21st century. A light-box from the series Visions of the World finds its origin in a drawing on a tiled wall of the former Manifattura Tabacchi. In pencil, an anonymous hand has traced a rough trajectory of the sun through the mountains, visible from the windows of the factory.
Location
ROVERETO
ADAM BUDAK: "PRINCIPLE HOPE"
EX PETERLINI, VIA SAVIOLI 20 – MANIFATTURA TABACCHI, P.ZZA MANIFATTURA 1 -STAZIONE FERROVIARIA, PIAZZALE ORSI, I-38068 ROVERETO, ITALY
more