artists
I. Helen Jilavu
1977, Kaiserslautern, DE Lives in Berlin, DE
Your stage!, 2007 C-print, 170 × 85 cm
BOLZANO/BOZEN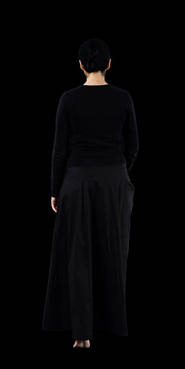 The artist visits abandoned rooms, focuses on the signs left behind by earlier life and directs the viewer's attention to past connections and analogies – things forgotten on the periphery of progress. The figure embodied by the artist herself is featured in almost every photograph she makes. It is a crucial element, essentially the starting and finishing point in her work. This figure sometimes faces us head-on, fixing the viewer intently with her gaze, or stands with her back to the viewer, as a model with whom we identify.
Helen Jilavu is founder and co-curator with Erik Schmelz of the Moguntia Projekt (2003) and the China Project (2006), short-term, site-specific exhibition spaces. She has worked together with andcompany&Co. on a number of performances and audio-visual installations including photography, sound and text.
Location
BOLZANO/BOZEN
RAQS MEDIA COLLECTIVE: "THE REST OF NOW"
EX ALUMIX, VIA VOLTA 11, I-39100 BOLZANO/BOZEN, ITALY
more