artists
m-city
1978, Gdynia, PL
Bolzano, 2008 Graffiti painting on wall
BOLZANO/BOZEN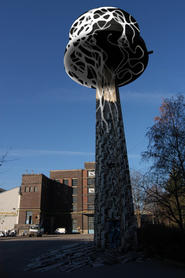 All of m-city's pieces begin as stencils and are painted in two shades. They constitute a play with the form and space of the city: on walls, posters, billboards and stickers.
The inspiration for m-city's fantasy urban proliferations comes mostly from the architecture of the Gdansk region of Poland. His painted streets and buildings are not planned in advance, but come to life as the work goes on. Most of his works are on walls that have been specially chosen to match the historical or architectural context of their surroundings. People on the stencils are mostly the author's friends or people involved in some local social activity.
m-city creates most of the cities himself, but the biggest projects offer the opportunity for friends and sometimes bystanders to help. Such meetings have the atmosphere of a picnic. What is interesting is that subconsciously, people often recreate their own environment when they paint buildings. People living in blocks of flats tend to paint blocks of flats, while people living in villas tend to paint villas.
Location
BOLZANO/BOZEN
RAQS MEDIA COLLECTIVE: "THE REST OF NOW"
EX ALUMIX, VIA VOLTA 11, I-39100 BOLZANO/BOZEN, ITALY
more