artists
Pietro Roccasalva
1970, Modica, IT Lives in Milan, IT
Giocondità, 2002 digital animation, 3'53'', loop Jockey Full of Bourbon II, 2006 neon, resin and hand painted feathers, microphone pole, acrylic on paper on forex, mirror, 290 × 680 × 580 CM The Oval Portrait. A Ventriloquist at a Birthday Party in October 1947, 2005 pastel on paper on panel, 91 × 150 CM The Oval Portrait. A ventriloquist at a Birthday Party in October 1947, 2005 black and white polaroid, 10 × 12 CM
TRENTO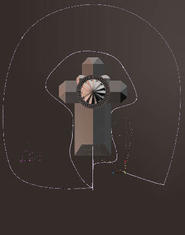 Escaping from any kind of linearity, Pietro Roccasalva's creative process always has its coinciding beginning and end in a painting. To discern the diverse moments of its trajectory, the artist opens the doors of what he defines as a "worksite". There, together with all the phases of the graphic creation—objects, furniture, audiovisuals, actions and tableaux vivant—there are visions and obsessions filled with philosophical, historical and artistic instances mixed with events, circumstances and coincidences by which the artificer likes to be surprised. In this way, every image always determines another one, and every work carries a trace of something that has preceded it in a constant back-and-forth of iconographies, which repeat themselves in variety and generate new situations.
Roccasalva's exhibitions are a trail in which the flow of information is framed in different "stages", formally closed and autonomous (settings, installations, sculptures, videos and digital images) but also part of a wider process. Fluency and solidity pursue each other and exchange until they crystallize in the dynamic two-dimensionality of the painting-processor. What remains is a screenplay, or a musical score, not written beforehand but rather determined by the event and by an artificer unaware and unwilling: "the purpose flourishes through the outcome".
Location
TRENTO
ANSELM FRANKE/HILA PELEG: "THE SOUL (or, Much Trouble in the Transportation of Souls)"
PALAZZO DELLE POSTE, VIA S.S. TRINITA' 27, I-38100 TRENTO, ITALY
more