artists
Beth Campbell
1971, Illinois, US Lives in New York, US
Following Room, 2007 Mixed media installation
TRENTO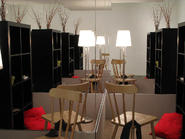 The anxiety-inducing aspects of memory and counter-memory, of pattern recognition and its rupture, are key elements of Beth Campbell's practice. Her exploration draws upon the artist's ceaseless, even obsessive, pursuit of the possibilities of self-analysis. She is aware of an inevitable alienation at the hands of the mass-produced culture she purposefully employs: "For the sake of appearances, I present a suitable array of me's." Forever toying with the ambiguity of this proposition, her work denies the possibility of avoiding generic culture, yet contains an attempt to make tangible the fairy-tale possibilty of inhabiting the realm of the virtual, of subtly collapsing past and present along with the real and the artificial.
In her recent work, Campbell experiments with the illusion of infinite regress or mise en abyme; this is evident in Following Room, for which she has arranged multiples of a reading room into a grid of mirrored pairs. The ensemble operates as a trompe l'oeil infinity mirror without a single pane of glass. The result is a certain psychic dislocation that reveals Campbell's growing interest in the spatial order of architecture and its shifting relationship to crucial aspects of human identity.
Location
TRENTO
ANSELM FRANKE/HILA PELEG: "THE SOUL (or, Much Trouble in the Transportation of Souls)"
PALAZZO DELLE POSTE, VIA S.S. TRINITA' 27, I-38100 TRENTO, ITALY
more