BOLZANO/BOZEN
RAQS MEDIA COLLECTIVE: "THE REST OF NOW"
EX ALUMIX, VIA VOLTA 11, I-39100 BOLZANO/BOZEN, ITALY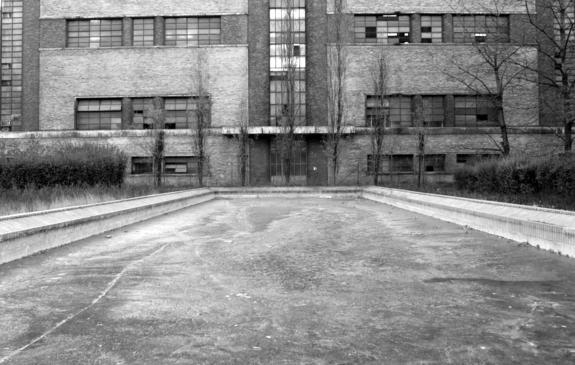 "The extraction of value from any material, place, thing or person, involves a process of refinement. During this process, the object in question will undergo a change in state, separating into at least two substances: an extract and a residue. With respect to residue: it maybe said it is that which never finds its way into the manifest narrative of how something (an object, a person, a state, or a state of being) is produced, or comes into existence. It is the accumulation of all that is left behind, when value is extracted… There are no histories of residue, no atlases of abandonment, no memoirs of what a person was but could not be."
(Raqs: With Respect to Residue, 2005)
What transpires in the course of a second, closer look at the narrative of progress and the velocity of our times?
Our effort is to subject these realities to critical reappraisal. The setting of part of Manifesta 7 in a disused aluminium factory in Bolzano – a space of abandonment and residue – raises many questions about the after-life of extraction. What gets left behind when everything is taken away? What can be retrieved, and what can be remembered? How can the residual become the engine of meaning?
We are interested in thinking about what happens when things are rendered as valuable in this world. It involves a slowing down, aconcentration of attention on some processes that might otherwise attempt to obscure those traces that are left behind. In one sense, it is an attempt to come to terms with the self-fulfilling amnesia of Capitalism, and to see what can be salvaged from the oblivion to which the residues of Modernism are normally consigned.
The task of creating a network of processes and art works inside an abandoned industrial site seems to us to be the perfect opportunity to invite artists – and some participants who do not practise as artists – to enlarge the horizons of this conversation.
While Europe is already known for art spaces and events that occupy abandoned industrial sites, there still remains the question of what the combination of remembered industrial energy and a more current melancholia of abandonment actually means today. In some ways this is symptomatic of Europe's unwillingness to come to terms with aspects of its own difficult path into, and through, the 20th century.
Raqs Media Collective
THE REST OF NOW
ARTISTS
David Adjaye, Stefano Bernardi, Kristina Braein, Yane Calovski, Candida TV, contemporary culture index, Neil Cummings and Marysia Lewandowska, Harold de Bree, Latifa Echakhch, Marcos Chaves, etoy.CORPORATION, Anna Faroqhi, Ivana Franke, Matthew Fuller, Francesco Gennari, Ranu Ghosh, Rupali Gupte and Prasad Shetty, Anawana Haloba in collaboration with Francesca Grilli, Graham Harwood, Nikolaus Hirsch & Michel Müller, Hiwa K, Emre Hüner, Helen Jilavu, Sanjay Kak, Zilvinas Kempinas, Reinhard Kropf and Siv Helene Stangeland, Anders Krueger, Lawrence Liang, Charles Lim Yi Yong, m-city, Teresa Margolles, Walter Niedermayr, Jorge Otero-Pailos, Martin Pichlmair, Piratbyrån Party (featuring a performance by Jem Noble), Jaime Pitarch, Prof. Bad Trip, Kateřina Šedá, Dayanita Singh, TEUFELSgroup, Meg Stuart, Melati Suryodarmo, Jörgen Svensson, Hansa Thapliyal, Alexander Vaindorf, Judi Werthein, Graham Harwood, Richard Wright, Matsuko Yokokoji,
Darius Ziura
SPECIAL PROJECTS
Hot Desking: Four broadsheets, four cities, four events
A project in collaboration with Konstfack Curator Lab
Hot Desk Paris: J'aime beaucoup ce que vous faites
Hot Desk Istanbul: Muhtelif
Hot Desk Stockholm: Site Magazine
Hot Desk Rome: Nero Magazine
Tabula Rasa: 111 days on a long table
A project by Denis Isaia in conversation with Raqs Media Collective
"The Rest of Now" will be accompanied by a print publication edited by novelist Rana Dasgupta containing texts and images by Irina Aristarkhova, Ursula Biemann, Ingrid Book and Carina Hedén, Espen Sommer Eide, Lakhmi Chand Kohli, Anders Kreuger, Ove Kvavik, J Robert Lennon, Lawrence Liang, Daniel Magnusson, Christien Meindertsma, Naeem Mohaiemen, Jeffrey Schnapp, Ravi Sundaram, Jeet Thayil, Cédric Vincent, and others.